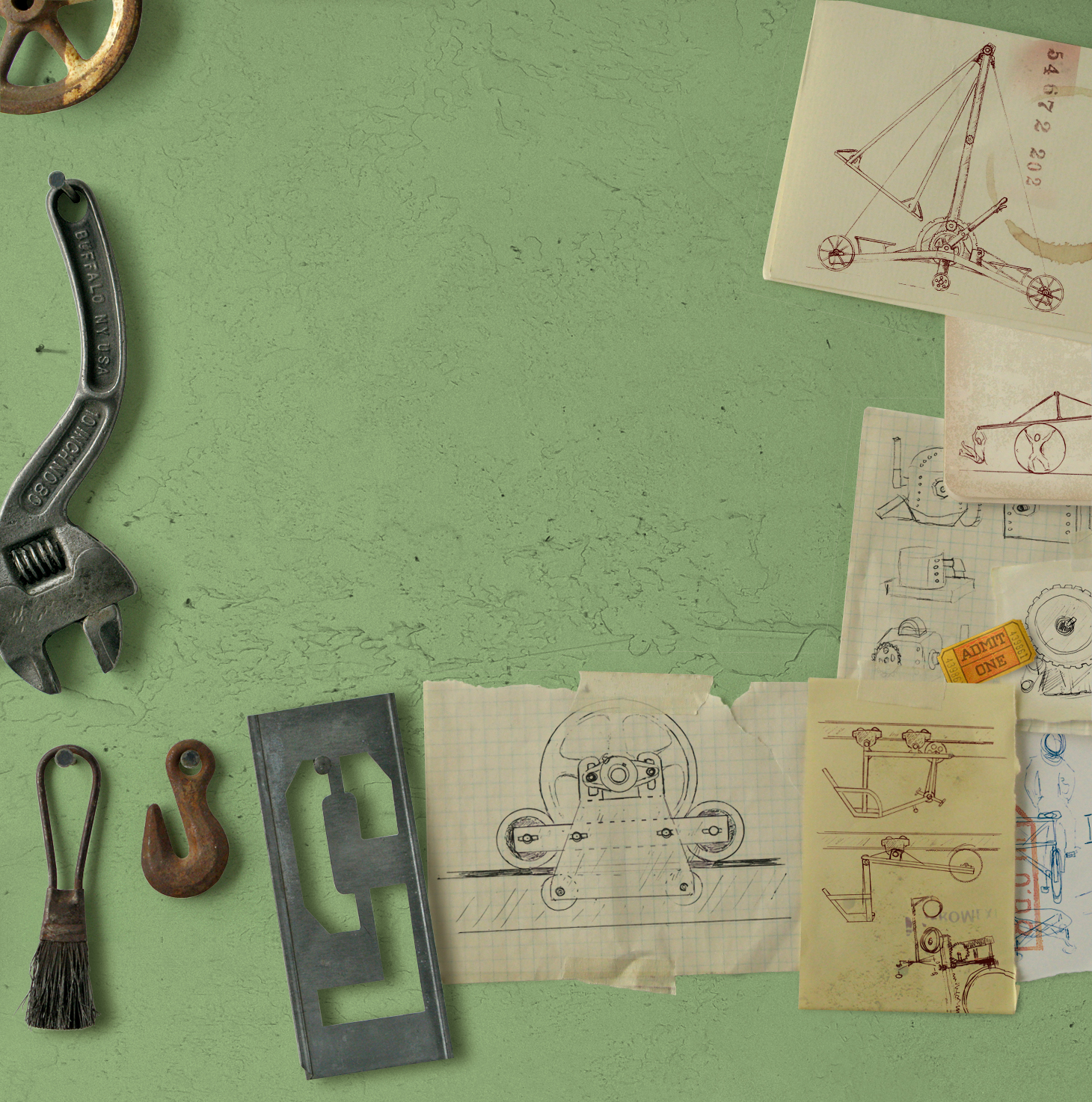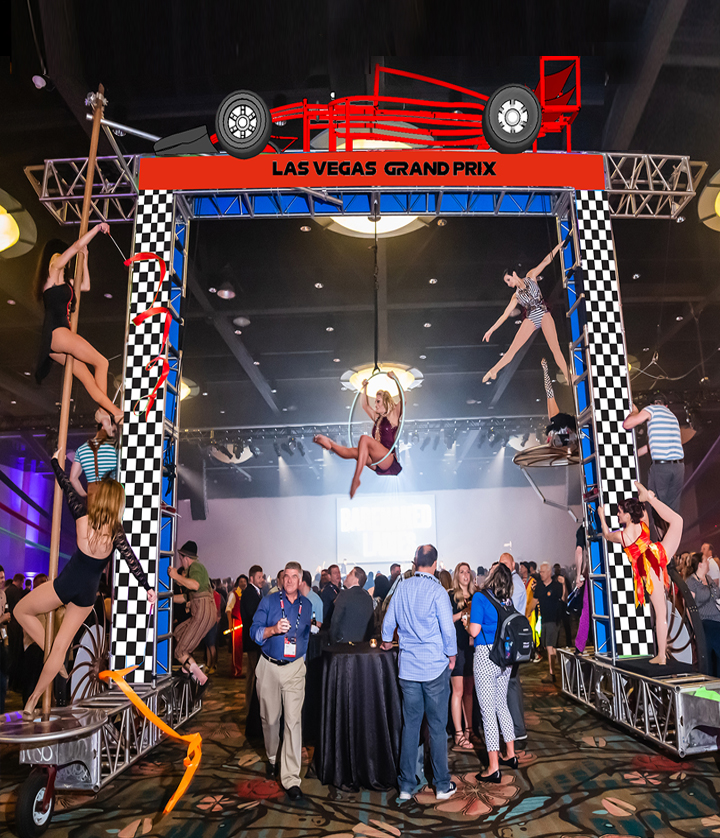 Contraptions and other circus apparatus
These innovative contraptions make Cirque Mechanics unique. Since our early days in the circus we have built devices that deliver content in new ways. Above all, these devices were initially conceived to solve common technical concerns or limitations of artists or venues. Almost 10 years ago we began to put these solutions to use in the event industry. More than ever we work closely with event partners to design new contraptions that solve common event industry concerns. As many event venues include water features or pools we have new offerings for this niche as well. To find out about our water devices and over pool solutions click here.
Gantry Bike
This pedal driven circus platform was initially designed for the festival world. Its large size and capacity to deliver aerial acts anyplace made it an instant hit. Because of this portability the Gantry creates truly memorable immersive experiences. If desired our team can work with event planners to arrange the event space so the Gantry can drive over seated guests. While it is designed to roam it is a great focal piece in any event space. The Cirque Mechanics team can build the Gantry to suit most any venue.
Click for video    Get info sheet and FAQs

Carousel
The Carousel was designed for our stage show "42ft – A Menagerie of Mechanical Marvels". The Carousel is a ground supported, free standing, revolving circus ring and aerial frame. While it solves rigging concerns it is also a great focal element in any room or outdoor space and is generally provided with acrobatic talent.
Spin Cycle
This 7′ diameter platform is a roving stage. The Spin Cycle moves through event spaces with ease as artists pedal it slowly to create moving spectacles. The stage's 36″ height puts talent head and shoulder above seated patrons. For this reason it is a great showcase for most any circus act or product. In addition the device is also a wonderful way to deliver your CEO or guest speaker to the stage.
 Click for video   Get info sheet and FAQs


Trike Rover
The 6′ tall Trike Rover drives down 4' wide aisles and navigates in the tightest of spaces. Its small platform supports atmosphere presentations such as contortion or hand balancing. Like the Spin Cycle it is also a great way to deliver a CEO or guest speaker to the stage. In addition, optional wheel covers provide great branding surfaces.
Click for video    Get info sheet and FAQs


Chariot
Another of our innovative contraptions , this trike provides a 10' tall roving platform. While nimble and able to navigate small spaces its true benefit is the increased visibility for roving talent. In addition the upper platform provides exceptional branding opportunities. The Chariot disassembles for shipping.
Click for video   Get info sheet and FAQs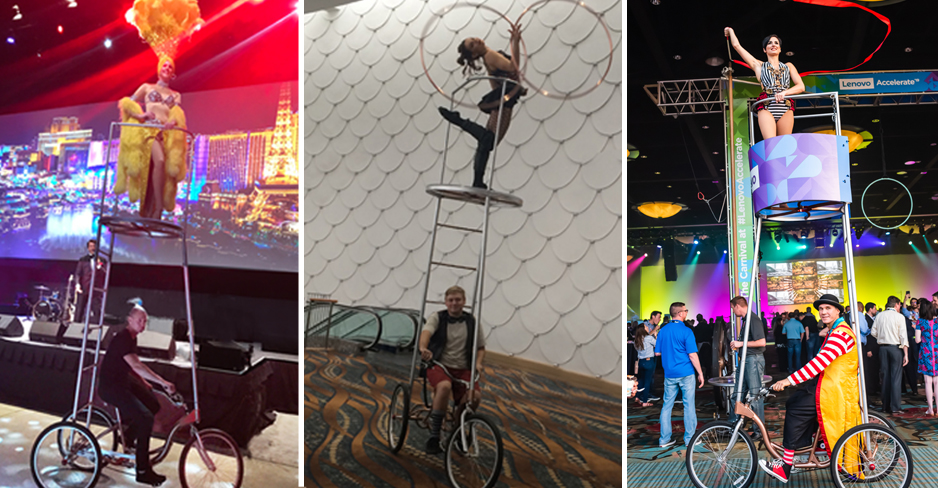 Penny Trike
Nimble vintage style high boy bicycle with trike rear wheels enable this bike to move through crowded spaces.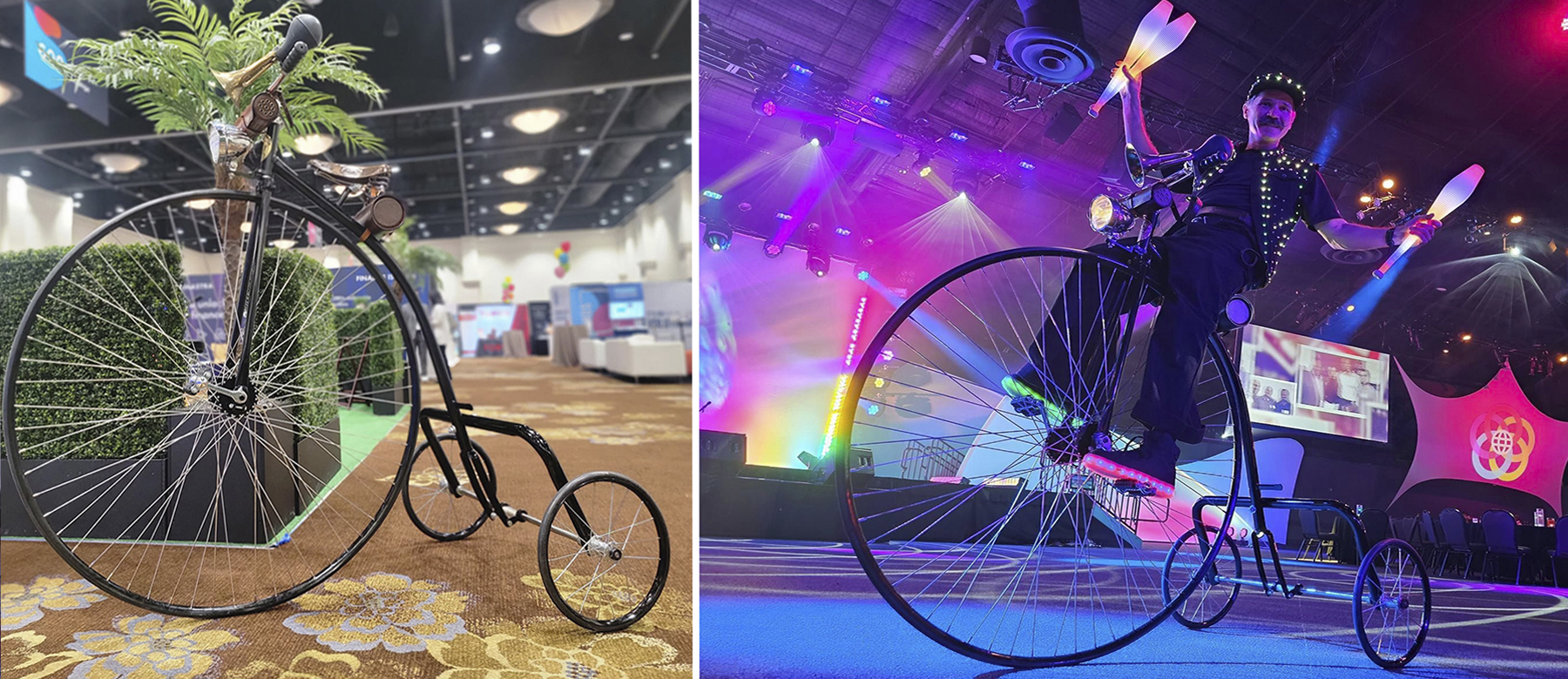 Trampoline Wall Running
This device combines a competition trampoline with a 16′ tall wall and platform. The "Wall" is a high energy acrobatic act, great for general sessions or as featured event entertainment. This act requires A 20′ x 20′ footprint . Alternatively, if space is an issue we can add the trampoline to our Gantry Bike for a more portable solution.
Click for video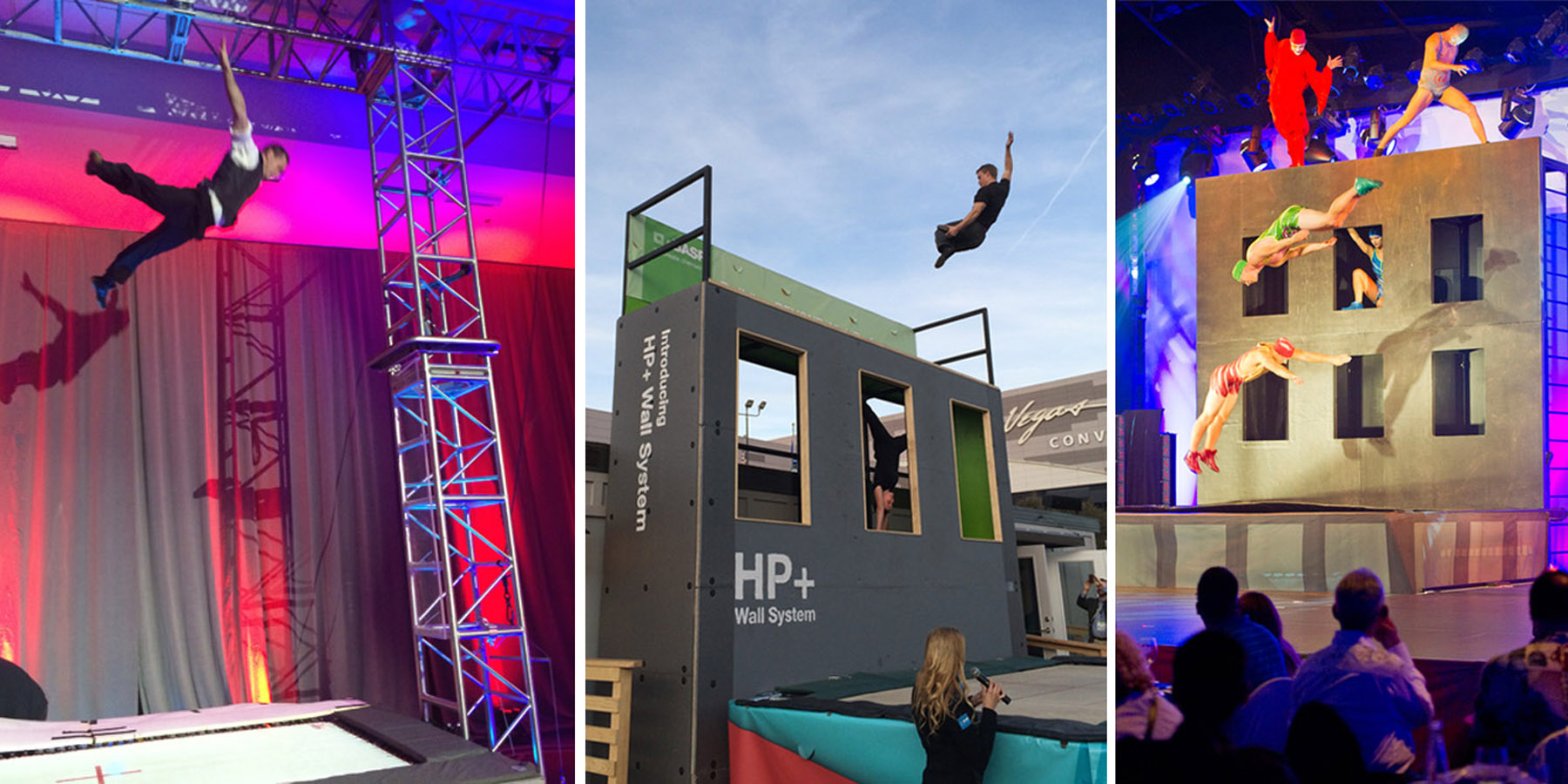 Russian Swing
This device was created for our touring show "42ft – A Menagerie of Mechanical Marvels" and is now it is part of our event inventory. The swinging pedestal launches acrobats into the air which creates a display of daring, and high flying flips. The swing sets up in under 1 minute, and strikes in 30 seconds.  For these reasons it is a truly high flying, high energy solution and is perfect for General Sessions.
Click for video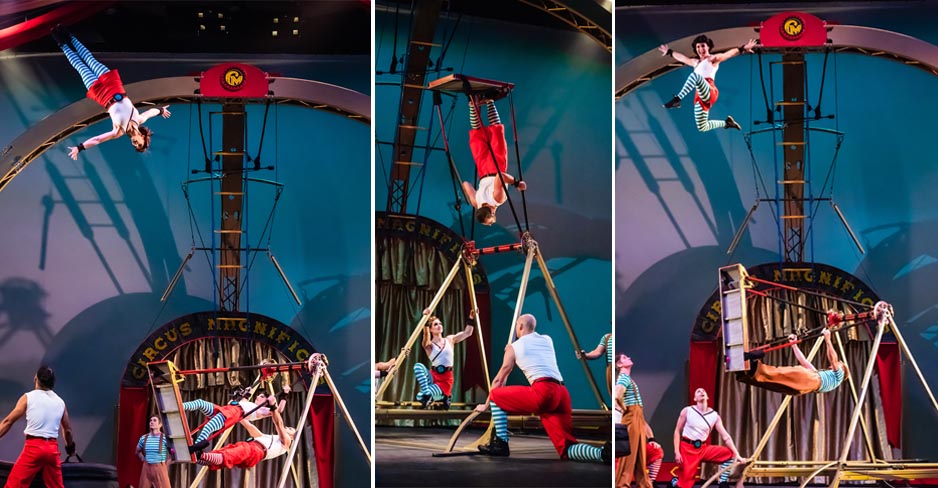 Other Ground Based Rigging Solutions
Goal Post Rig
We provide an assortment of single goal post aerial rigging solutions. This device is easy to build and requires the least amount of truss. These devices provide great rigging support and are quite common inside ballrooms or event spaces where rigging costs are often prohibitively expensive.

4 Post Rig
This solution utilizes four upright truss legs which connect to an overhead rectangle of truss that can be erected over the stage. The benefit is that this system can be built on the floor and set up to straddle a stage, bars, buffets or seating areas. It can also be placed in the center of your event space so that it takes up very little real estate and can provide a focal element.

So what's this stuff cost? Click here to visit COST.
Find out about our Wine Bike or Buffet Train food service devices. Click here to visit HOSPITALITY.